Planned Giving for Donors​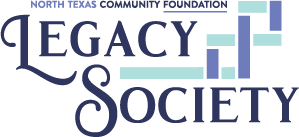 Imagine a brighter future for the causes and organizations you care about most. With thoughtful estate planning now, you can be assured your assets will be used the way you intended.
Bequests
Charitable Remainder Trust
Life Insurance
Retirement Fund Assets
Bequests
A charitable bequest combines philanthropy and tax benefits. It can be a specific dollar amount, percentage of an estate or what remains after debts, expenses and other bequests are made. To make a bequest, simply name the North Texas Community Foundation in your will or trust.
Charitable Remainder Trust
Life Insurance
Retirement Fund Assets
The Legacy Society honors the generous donors who have entrusted the Community Foundation to carry out their charitable intentions beyond their lifetime.
Benefits During Your Lifetime
Guidance: Our team will help you craft a legacy giving plan that honors your charitable intention.
Community: The Legacy Society gives you
the opportunity to connect with a group of
like-minded donors committed to the future of our region.
Flexibility: Execute a fund agreement that outlines your wishes—which may be amended any time without additional cost or legal assistance.
Events: Receive invitations to the Community Foundation's signature events.
Preservation: NTCF will share your story and photographs with future generations that will benefit from your generosity.
Benefits beyond Your Lifetime
Sustainability: A legacy gift provides continued support for the community you love.
Dependability: NTCF will fulfill your charitable intent today, tomorrow and beyond your lifetime.
Oversight: NTCF's board will ensure your grants are used for the intended purpose, for the timeframe you determine.
Growth: NTCF works to grow assets over time through prudent stewardship.
Impact: Unrestricted gifts will be bolstered by other funds to amplify their impact in our community.
Customized Grant Cycle: Funds over $5 million are eligible for a customized, responsive grant cycle administered by the NTCF grant committee.
Becoming a Legacy Society member is easy. All we ask for is a statement of intent to leave a gift to North Texas Community Foundation through a bequest, charitable trust, life insurance or a planned gift option.
Have Questions? Let's Chat.
We will work with you and your professional advisor to create the best solution for you while creating a lasting benefit for the community.